Teams Connect Shared Channels have been one of the hottest topics among Microsoft 365 customers for many months. Now they are here! Shared Channels have received a lot of advance praise as they are supposed to solve some of the disadvantages of the previous Teams infrastructure and private channels:
only members who are also members of the Team can be invited to private channels
very few apps can be used in private channels
To join a Team that was created in another tenant, the tenant must be changed via the Tenant Switcher in the Teams. This means that important information may not be available or may be available too late if you do not regularly check the other tenants. There is no alerting via the activity feed.
To cut a long story short – the shared channels are now usable (in Germany the rollout is completed as of 24.04. according to Microsoft in all Enterprise and Business tenants). When this function is configured and set up, it looks like this to the user:
Shared Channels are not GA (general available) at the moment! GA status means that a product or feature has been tested and Microsoft provides full support. The Shared Channels have not reached this status yet. The Shared Channels are still in the so called Public Preview Status.
Public Preview means that a function is available to the public, but no support is provided by Microsoft in case of errors. Microsoft also does not give any guarantees regarding stability. Also, there might theoretically be function changes at any time. Likewise, there may still be limited functionality.
Public Preview is intended to allow customers to get an idea of a function in advance (ideally in a test tenant!) in order to decide whether it will be used for GA in their own tenant. This means:
Prerequisites
Azure B2B direct connect
Shared Channels use Azure B2B technology in the background, Microsoft has recently released Azure AD Cross-Tenant access settings for this, these include a feature called Azure AD B2B direct connect. B2B direct connect is the direct basis for using shared channels. In a nutshell, it can be said that in this Admin Center, you need to set up a trust position for the partner tenant [Note: Microsoft had announced a feature called tenant friending years ago. B2B direct connect is exactly this feature]. The technical details can be read here.
If this position of trust has been set, then direct connect can be explicitly enabled for a company. It is important to know here: B2B direct connect is disabled by default for everyone! This means that each "partner" tenant must be explicitly set up:
To avoid opening your tenant to everyone, you can maintain your partners in a separate list and activate the functions individually:
Now it is possible to set individually (inbound and outbound) for each partner which functions are used, this also concerns the shared channels – through the B2B direct connect tab:
Teams Preview Mode
However, just setting up B2B direct connect is not enough, there is still one important setting missing in the Teams Admin Center. Shared channels are only available when the Teams client is running in preview mode. In order for these preview features to become available in the client, they need to be enabled in the Admin Center and the client needs to be moved to the preview channel. How to do that exactly is described in this article.
If Shared Channels have been enabled, then users in Preview mode will get a new menu item when creating channels:
Directly during the creation you can select whether this channel should be shared with all team members. If you do not select this, you will be alone in the channel for the time being. Exactly the same as with private channels. Likewise, you have the option to add additional members directly during creation – just like with private channels.
Immediately after being added to the channel, it appears in the Teams Client for the invited external person:
Various use cases easily arise from this really simple usability:
Simplified collaboration with external project members
Simplified collaboration with colleagues within a holding structure
Protection against unauthorized access to data
Protection against unintentional access to data
greatly simplified access as an external user to project-related data in the other tenant
Cost savings, as no special access methodologies need to be provided (for example, laptop, VPN access, or similar)
So far, it can be said that Microsoft seems to have fulfilled the customers' wishes. Above all, the elimination of the tenant switcher is an enormous relief for all those who are on the move in several tenants. This will especially please technicians who have to move around in several customer tenants, for example IT consultants.
Apps
A big criticism of the private channels feature was the lack of countless apps. The most criticized app has always been Planner. The lack of these features has required third-party products to be used. This in turn has triggered internal privacy discussions, audits or bans on third-party apps. Technically, this has good understandable reasons (no M365 Group). Those who now hope that this will get better with the Shared Channels will experience a bitter disappointment. The shared channels do not solve this shortcoming, and there are even fewer apps available: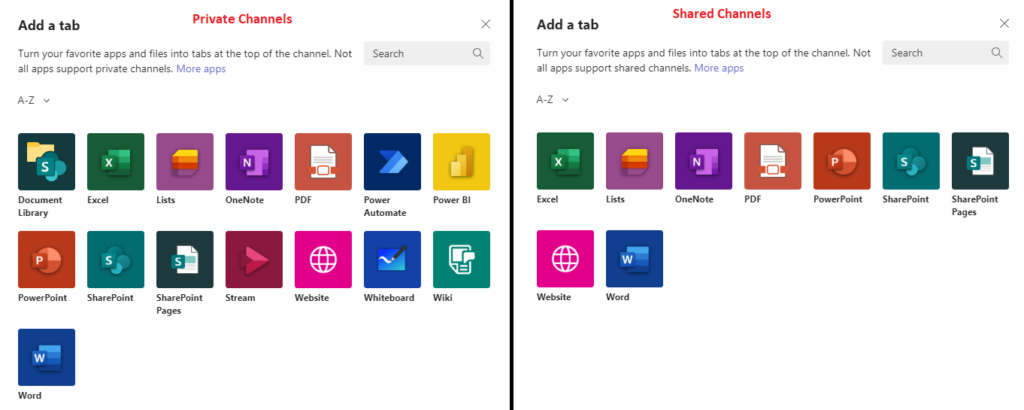 Guests or externals?
Many (probably almost all) tenants already work with guests and/or externals. By using Shared Channels the thought is obvious that you can invite the existing guests into the Shared Channels. This is exactly what is NOT possible! This will be a very sobering message for many. Shared Channels currently work with externals without exception. Any account that is already a guest in the tenant cannot be added to the shared channel.
This means that you have fewer management options in Azure-AD than with a guest account. It is also important to remember that when sharing with an external party, the guest rights remain unaffected. In the event of an ended collaboration (for example, due to project completion), the guest is removed – the External remains a member of the shared channel. This means that the External must be removed manually from all shared channels. Microsoft does not provide a global overview of invited externals by default.
An alternative solution for sharing documents is myMagicShare, or a new team. In any case, this means additional manual effort for the end users, as data has to be moved.
Conclusion
The shared channels are a very good means of facilitating collaboration across tenants. At the moment, important functions such as the integration of other Microsoft apps (for example, Planner) are still missing. Since the function is not yet GA, this could still change. For example, the integration of Roster Containers would be conceivable to solve this.
Regardless, shared channels are worth a close look and internal evaluation.