CLOUD INFRASTRUCTURE &
TECHNOLOGY CONSULTING
FOR GROWTH, COST CONTROL & SECURITY
We help your business with digital transformation toward Microsoft Cloud (Microsoft 365 & Microsoft Azure) to ensure that your employees are fully capable of fulfilling the company's mission in the office, home office and on the road and achieve peak productivity wherever they are. The topics of security, privacy and compliance with statutory and internal requirements (e.g. retention obligations, SLAs, etc.) play a vital role here as well.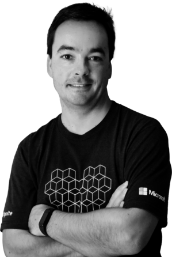 BOOK A CONSULTATION OR DO YOU HAVE QUESTIONS?
Preparing for the cloud is not just a project – it's a journey. We will be alongside you the entire way, from planning to completion and beyond.
Our service portfolio starts well before the actual project beginning: with strategic advice, planning and the setup of the project. This includes:
Identification and determination of the Microsoft 365 and Microsoft Azure products that fit you as well as your requirements.

Determination of the project methods (classic, agile, hybrid) and the project platform (e.g. Microsoft Teams)

Definition of project milestones

Development of communication structure and training methods for IT staff and other employees
Over the course of the project, solutions will be developed that support all platforms used in your company in the best possible way, while protecting your data, e.g. on Windows 10 & 11, Android, macOS and iOS devices. As part of a new "operational design," we will work out the changes in administrative tasks together with you.

Thus the entire change process for the launch of state-of-the-art cloud-based workstations will not only become an integral part of your IT but will be enshrined in the minds and hearts of all your employees.
A selection of our qualifications and certifications






Our Modern Workplace solutions are characterized by a sustainable system architecture, the latest security standards and simple administration.
CONSULTING SCOPE OF SERVICES AT A GLANCE
Project-management
(classic, agile, hybrid) according to recognized methodologies (classic, SCRUM, Kanban, …)
Strategy consulting for Microsoft technologies
Licensing advice and cost optimization of your Microsoft cloud
Sale of Microsoft licenses for Microsoft 365 and Microsoft Azure
Implementation by qualified technicians
○ Microsoft 365 (Office 365 & EM+S)
○Microsoft Azure
Tenant-to-tenant migration
○ Carve out
○ Mergers & Acquisitions
Migration to the Microsoft Cloud, e.g.:
○ Third-party manufacturers (Lotus Notes, POP3, IMAP, …) or legacy Exchange to Exchange Online
○ Expansion and relocation of existing data center infrastructure to Microsoft Azure or Azure Stack HCI
Design of your individual architecture
(cloud only or hybrid)
individual support contracts or operational support
ALSO BENEFIT FROM OUR STRONG PARTNER NETWORK
Working with Black Magic Cloud gives you access to the best of the best.
We don't focus on quantity, rather on quality. All are masters of their trade, have project experience and the relevant certifications.
In order to meet this high quality standard, we work together with a strong network of partner companies, freelancers, MVPs and other qualified technicians. In this way we can guarantee consistently high quality.
Our network also includes topics that go beyond the area of IT, for example:
Data Protection Officer

Online Marketing & Web Design

Adoption & Change Management by Trainers

Insurances

Tax advice

and much more
Have we sparked your curiosity?
Do you need support in implementing the digital transformation of your business?
Are you in the process of founding your own company or startup and need a little advice from professionals?
Then do not hesitate and contact us!
Benefit from our comprehensive service portfolio

M365aaS POWERED & MANAGED BY BLACK MAGIC CLOUD
SECURE CLOUD WORK ENVIRONMENTS
ADAPTED TO THE REQUIREMENTS AND NEEDS OF YOUR BUSINESS
YOUR IT SUPPORT SERVICE AT THE RIGHT SCOPE FOR THE NEEDED DURATION
Regular courses on important topics around Microsoft 365, Powershell as well as secure collaboration in the cloud.
myMagicShare




Provide your employees with a secure platform for data exchange.