Introduction
Microsoft Loop was announced by Microsoft in MC525137 as a preview version. Now the developers have made the Loop app available for testing at the easy-to-remember address https://loop.microsoft.com. Until now, it was only possible to get on the waiting list for Microsoft Loop on this page. In this article, we show step-by-step how to unlock or block the Microsoft Loop app (and all Loop components) for a pilot group or the entire tenant.
Pilot group creation
In order to be able to use the Microsoft Loop App for all users, an activation is required. The activation is done via a policy that is assigned to an Azure AD group. So first the group must be created (using a group synchronized from on-premises is of course also possible). The group must be of type Security. Dynamic groups AzureAD groups can also be used.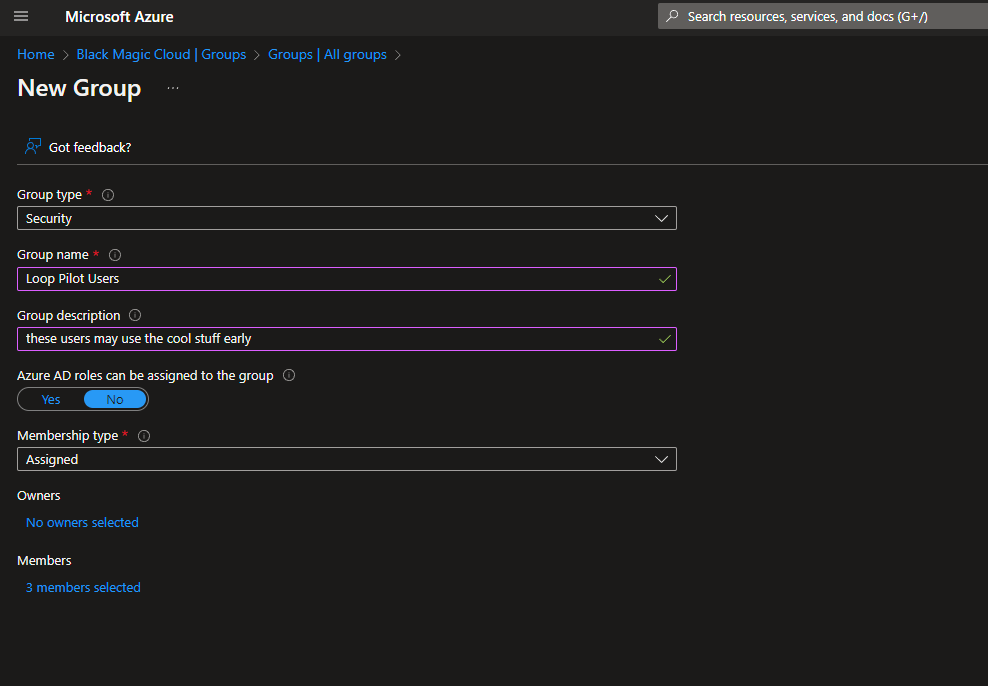 Cloud Policy configuration
Cloud Policy sounds fancy at first glance and you wonder which admin center is the right one. The answer is simple: https://config.office.com. In the past, this admin center was known for Office configurations, today this admin center is used for central tenant settings, which are often not configurable via Intune.
For Microsoft Loop, a new policy must be created or an existing one must be adapted:
Now this policy is configured by wizard: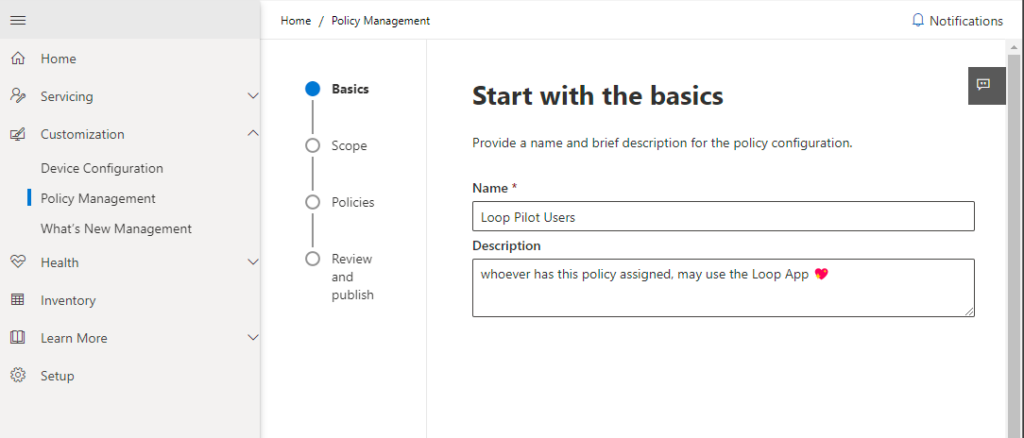 The Cloud Policy Admincenter supports over 2,000 policies, so you should search for the keyword Loop and there will be few policies left as search results. The ones left can all be enabled for a comprehensive experience – the policy Create and view Loop files in Loop is the most important one. The other policies control the availability of Loop components in other products. We recommend enabling all of them, as Loop components can play to their strength through cross-linking, for example integrating with Teams or Outlook. We will highlight these scenarios in other blog articles.
If you would like to prevent the use of the Microsoft Loop app and other Loop components instead, then these can also be disabled via the policies.
The final step is to save the policy (or policies). Within 24 hours, the new or changed policies are then applied to the users. In individual cases, it may take a little longer. As long as the new policy does not take effect, a message like this appears:
Loop App in action
The Loop app can be accessed by going to https://loop.microsoft.com and can now be used:
Microsoft provides a new experience for interactive real-time collaboration with Microsoft Loop. This collaboration can be enriched with suitable elements such as tables, task lists, polls and also other sources such as images, emojis and many more. Microsoft has already published some information about this:
Microsoft Loop and the Future of Collaborative Experiences | by Microsoft Design | Mar, 2023 | Medium
Learn how to enable the Microsoft Loop app, now in Public Preview – Microsoft Community Hub
New Microsoft Loop app is built for co-creation | Microsoft 365 Blog
We will also continue to blog about Microsoft Loop and the deployment options and scenarios.