The year is almost over, in the final spurt there are still some important dates that should be in the calendar: namely, those at which Andreas Hähnel appears as a speaker at events:
einfachM365 PowerWeek Nov 7 – Nov 10, 2022
This event is aimed at end users. The aim is to show how the Microsoft product range can be used in everyday work to save time and work more efficiently. There are 2 presentations on the agenda, registration is still possible at einfachM365 – Motivieren | Mögen | Mitgehen | Machen | Managen | Meistern.
Simplify and automate your workday with the Teams Update app
This session is about highlighting a little gem in Teams: the Updates app. The name suggests that this is some kind of news channel from Microsoft, but that's not the case. The Updates app is a powerful tool, for example, to automatically request statuses from colleagues.
Stay in the Loop
This session is becoming a perennial favorite and was already celebrated at the Teams10x conference in English. The focus is on the question: "How can I use Loop efficiently in my everyday work?"
What's special about this session is the live demo that Andreas will be demonstrating together with his co-speaker Sabrina Göttlinger. As a treat, the news from Microsoft Ignite from October 2022 will also be rehashed, in other words, the two speakers will explain how Loop will evolve in the coming months and what we can all look forward to.
M365 Summit Nov 15, 2022
The M365 is a German-speaking conference for technicians and users, which brings sessions for every level of knowledge. From beginners to experts, there is something for everyone. The whole thing is rounded off by Expert Circles, where every participant can openly discuss topics with the speakers. No ticket yet? You can change that here: Register for the M365 Summit.
News from Microsoft Viva
Microsoft Viva has become one of the best suites in the employee wellbeing space. As one of the youngest tools in the Micorosft 365 toolbox, it has already received considerable updates. Back in May 2022, Andreas talked about Microsoft Viva at Summit and outlined what added value can be used for free:
This new session is not only about the free added values, but also about the paid news of the last half year. A special focus will be on the new additions to the Viva family:
Viva Goals
Viva Engage
Viva Amplify
Stay in the Loop
Similar to the einfachM365 conference, the focus here is on the stroke of genius that is Microsoft Loop. At the M365 Summit, however, we will go into more technical depth so that every participant knows what happens behind the scenes at Microsoft when Loop is used.
Microsoft's announcements from Ignite in October 2022 are also very important here.
kiwiko partner conference Nov 16, 2022
kiwiko eG is an association of IT system houses and a network of experts, which together can handle any project, no matter how challenging, with flying colors. The network currently has 55 excellent partners, and Black Magic Cloud is also on board as a Microsoft expert.
Viva – free added value for your company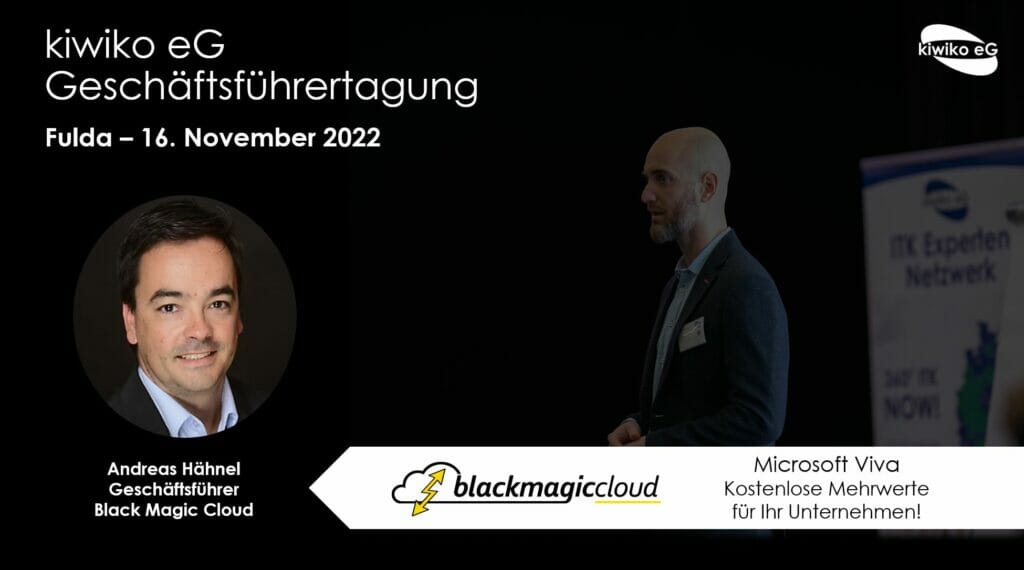 It's only natural that Andreas, who loves to give talks, will also take to the stage at the partner conference and talk about one of his favorite topics: Microsoft Viva. The core will be a start into the Viva world: what can be realized with Microsoft Viva for free (without opening the wallet) to make your employees happy? Because especially for a CEO happy and satisfied employees are important, because a satisfied employee stays!
Another very important aspect is what we (should) have learned from the COVID pandemic: It was impressively demonstrated to many companies that measures must be taken to avoid overloading employees. At the same time, however, all employees should always be well informed about all new developments. But how do you keep track of the flood of information? The retrievability of information plays a central role here. Where and how is the information managed?
and then, 2022 is over…
In December, not much more happens, here will then be some air to breathe, so that it starts next year then full of energy again. The first events have already knocked and asked whether Andreas can also perform here. So it remains exciting.
As a participant Andreas will be at the European Collaboration Summit in May, he is always available for small talk, maybe we will see each other there.