Introduction
Personal Bookings is the latest insider tip and productivity hack from Microsoft. It makes scheduling much easier for many scenarios. How exactly? This article explains that in detail.
One booking site for all
Imagine you want to work with a booking calendar. Using this booking calendar, you can make certain appointments or services (in terms of topics to be discussed) available to internal colleagues or even any external person. Simple use cases for this could be, for example:
As a team leader, provide a 30-minute 1:1 for employees
Offer colleagues a 60-minute exchange meeting
an online appointment to meet with new customers
and many more…
You see, there are many scenarios where a booking system can offer real added value, and the industries that can use it are practically not limited:
IT service providers who would like to offer time-limited talks (getting to know each other, service, …), for example Contact | Black Magic Cloud or IT consulting contact | Black Magic Cloud. These two pages are examples where we provide a booking page for existing and new customers.
A hair salon where customers can independently book an appointment for their desired haircut with a dedicated hairdresser or hairstylist at a specific time.
A doctors' office that wants to provide appointment booking as a self-service to its patients.
A retailer that is only allowed to let a certain number of customers into its store at once due to pandemic-related restrictions and needs seamless tracking of visitors and guests.
An internal IT or help desk department that wants to offer employees the options of exclusive 1:1 support.
A works council or staff council that would like to offer its employees the possibility of unbureaucratic personal consultation hours.
An in-house wellness service provided to employees as a bonus.
This list could be continued almost endlessly.
The opportunities with Microsoft Bookings
For all these (and more) use cases, Microsoft already offers a great solution: Microsoft Bookings. With this tool, one can provide central booking calendars with very little effort – both internally and via the Internet – and thus simplify many unnecessary appointment discussions or even make them superfluous. In addition to the variety of configuration options, these booking calendars offer one very important detail: For each service, it is possible to set whether the person making the booking can choose with which employee this appointment is made or not. Bookings works with direct Outlook calendar integration. Appointments can only be booked if there are actually free time slots in the agent's calendar. Double bookings and appointment overlaps have thus become impossible, as long as the Outlook calendars are properly booked with the statuses "Busy", "Free", "Absent".
Where "personal Bookings" removes the limitations of Microsoft Bookings
Since Bookings is designed as a functionality for workgroups and teams, a Microsoft 365 group is created in the background for each booking calendar. This is technically absolutely reasonable. This makes it possible to provide a booking calendar for any size group of employees. As practical and reasonable as this implementation is, it has one major drawback:
The problem with booking calendars

Any Booking Calendar designed for only 1 person requires a Microsoft 365 group with 1 member. If a company wants to offer personalized booking calendars for each person, 1 group per employee is created. This makes an additional 1,000 Microsoft 365 groups for 1,000 employees.
This quickly makes the environment very confusing and increasingly difficult to manage. It is obvious that no company wants to adopt this approach. As a result, employee efficiency suffers greatly, as unnecessary email ping-pong or even chats to find appointments become the norm. The more participants are involved, the more difficult and inefficient the finding process becomes.
This way, a lot of valuable working time is lost. This dilemma is now solved by personal Bookings, because this product gives every employee the possibility to create and share a personal booking calendar without creating a Microsoft 365 group for this purpose.
Personal Bookings in action
The setup is very easy for every user. Microsoft has dispensed with complex configurations and wizards and designed a very simple interface that any user can quickly get to grips with without lengthy training. All the user needs to know is the link to the (easy to remember) configuration page: https://outlook.office.com/bookwithme. Personal Bookings can also be accessed quickly from within OWA:
Only the banner of the page can or needs to be set by the user. At first sight you can see that there can be public and non-public appointment offers (more about this later):
Licensing personal Bookings
Personal Bookings is included in almost all licenses and license packages:
Office 365 A3, A5
Office 365 E1, E3, E5
Office 365 F1, F3
Microsoft 365 Business Basic, Business Standard, Business Premium
Microsoft 365 A3, A5
Microsoft 365 E1, E3, E5
Microsoft 365 F1, F3
Personal Bookings is based on the data in the Exchange Online calendar, but requires the use of the Bookings service plan, which is included in each of the above licenses. If the Bookings plan is disabled or another (preventing mis-) configuration is made to Exchange Online, the user will receive an error message:Personal Bookings is based on the data in the Exchange Online calendar, but requires the use of the Bookings service plan, which is included in each of the above licenses. If the Bookings plan is disabled or another (preventing mis-) configuration is made to Exchange Online, the user will receive an error message:
Error message when accessing personal Bookings

You do not have access to personal bookings. Your IT admin has not given you permission to use anonymous sharing. Contact them for more details.
This short error message hides a very important message: anonymous sharing. This sounds like necessary Exchange Online configuration.
Enabling personal bookings in the tenant (Exchange Online)
The good news first: If your tenant in Exchange Online does not yet work with so-called EWS Allow– or EWS Block lists, the users can use personal Bookings without further configuration. By default, this feature is enabled for all users. Administratively, further settings can be made to make personal Bookings available only to a certain group of people or to block it for the entire organization. Microsoft describes the configuration procedure in this article: Bookings with me | Microsoft Docs. This article is quite confusing, so we have created templates from which you can easily pick your use case. All scripts listed below are available for free download on GitHub.
Regardless of which configuration is made, it can take several hours before personal Bookings actually becomes usable. In our tests, blocking only took a few minutes, activation up to 48 hours.
basic configuration
In order to use personal Bookings, the user or tenant must be in targeted release (this will change with GA release, at the time of writing personal Bookings is still in preview mode). Additionally, calendar sharing must be active in Exchange Online. This will bring many data protectionists to their attention. To make a long story short, sharing does not publish all the company's calendars to the Internet.
(De)activate Personal Bookings for individuals
Assuming personal bookings should only be available for selected persons, but not for the entire company, this can be achieved with the following script:
(De)activate personal bookings for the entire organization
Configuring personal bookings per person can be very time-consuming, because this configuration must become an essential part of all user management processes. For this reason, it makes sense to enable or block personal bookings for the entire company (or in Exchange jargon, "the entire organization"):
Changing the OrganizationConfig can take some time – 2 hours waiting time or more can be quite normal.
The creation of a time offer by the user
After the configuration is done and active, users can start using personal bookings. To create appointment offers, just press the plus in the corresponding box (public or private does not matter for now, this can be further customized later):

Everything after that is easy to understand and simple to set up by any user without help. Only the subtleties of the appointment need to be set:
Title: Subject of the appointment.
Category: with this category this appointment will be displayed later in your own calendar.
Description : more information about this appointment that the booker must know.
Location: The meeting location, with the option to automatically make this appointment a Teams Meeting. Important: It is not possible to integrate your own conference rooms from Exchange Online (which is very good from a privacy point of view), but the search for public locations using Bing Maps is integrated by default.
Duration: How much time is planned for the appointment.
Visibility: Public (everyone – even anonymous users) or private (only users with direct link) – you can correct this here again if you accidentally selected the wrong appointment type.
Availabilities: Defines at which times this appointment can be booked. By default, the availability is based on the settings in the Outlook calendar for personal working hours.
These are the basic settings. In the GUI very easy and clearly structured: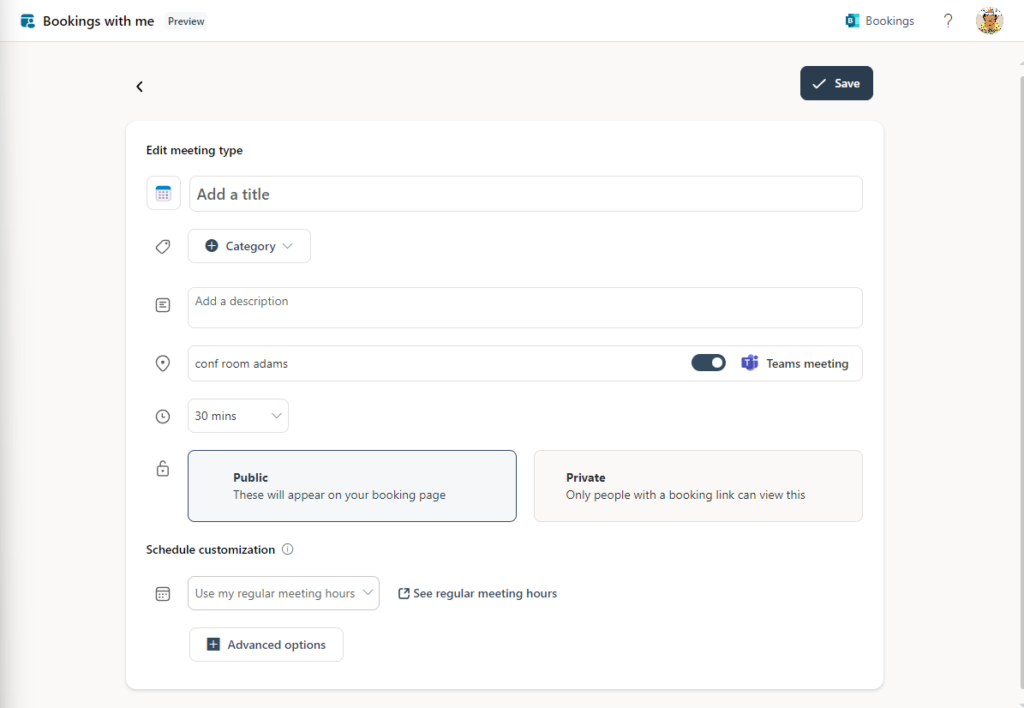 When creating an offer, the user may wish to limit certain offers to certain times, or not to offer them on certain days. For this purpose, individual settings can be displayed below the Advanced settings menu:

This submenu enables further settings for the appointment, which can be extremely important:
Buffer time before the meeting: your calendar is blocked around this time before the appointment, so you can create preparation time for yourself.
Buffer time after the meeting: the calendar is blocked around this time after the meeting, so you can create your own follow-up time.
Limit start time to: the booking page offers 5/10/15/20/30/45 or 60 minute intervals for this appointment offer.
Lead time: this is not the buffer, but here is set with how much time in advance the appointment can be requested. In this way it can be avoided that an appointment is booked too short term. A lead time of several hours or days can be configured.
Maximum lead time: To prevent an appointment from being booked 5 years in advance, for example, a maximum time can be set. By default, this is 90 days. This value is also the maximum allowed.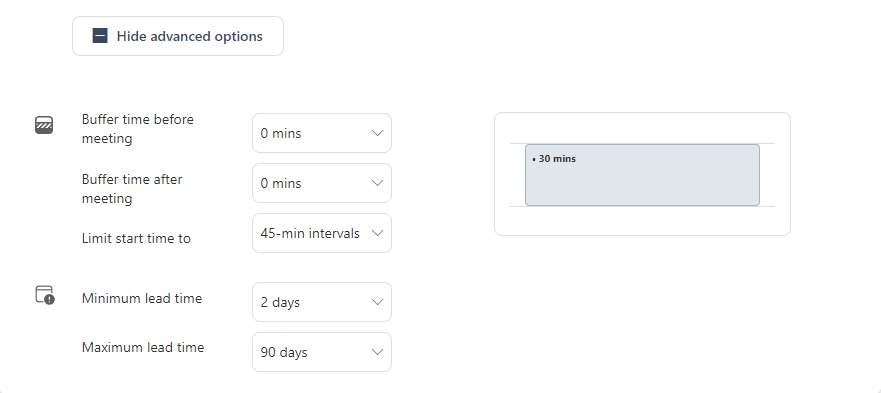 To give the appointments a more pleasant visual touch, there is a possibility to assign an icon:
Feature: private offers
The above examples outline the creation of a publicly available appointment offer, i.e. every person who has access to the booking page can make bookings there. Personal Bookings also offers the possibility to create appointment offers that are only accessible to certain people. Microsoft solves this by not listing these appointments on the booking page, but only allowing them to be booked via a direct link.
So, for example, if a team lead wants to offer employees the possibility of a private / confidential conversation, a private appointment can be used. The creation works like the creation of a public appointment, the only difference on the configuration page is this: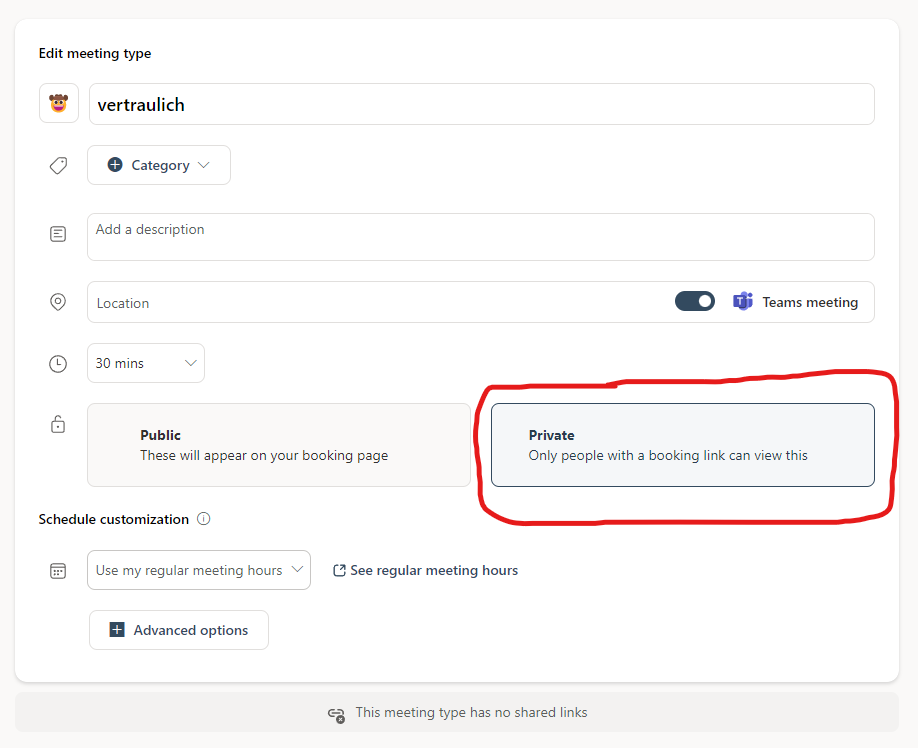 The public booking page
Once you have created all the appointment offers, you can view them on your own booking page and make any necessary adjustments: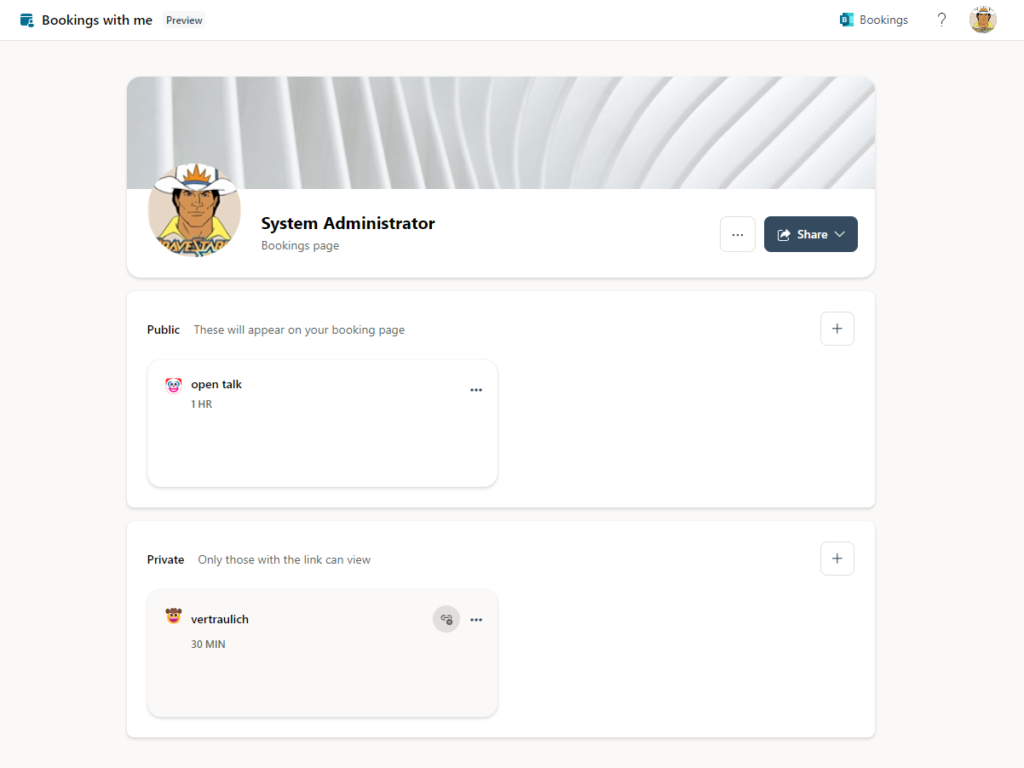 Now it is time to publish the booking page. This can be accessed via a weblink generated by Microsoft. The individual weblink can be found here: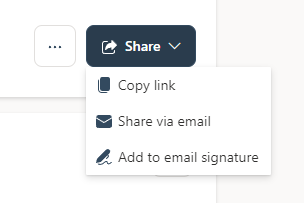 Here you have 3 choices:
Get link: Get the individual link to copy it to the clipboard. This way the link to the bookings can be distributed or populated on an internal page, for example an internal SharePoint Online page.
Share via email: Send the link directly via email.
Add to email signature: If the personal signature is saved in OWA, the link can be added here directly.
Email Signature hint

Since the possibilities of central signature management in Exchange Online and Outlook are very limited, we recommend the use of a professional signature solution such as Exclaimer. /bookings/" target="_blank" rel="nofollow noopener">Contact us for more information and an individual non-binding offer.
If the link was shared and an external person wants to book an appointment, he or she opens the just generated link and gets directly to the booking page. Here you can select whether you want to book as a guest or with an AAD account (if you are logged in to the Edge profile, the query does not appear and in the final booking the contact details are pre-filled):
What follows is an overview page of the appointments available for booking – the private appointments are not visible:
The booker can choose the date and time him/herself (according to the configuration of the provider) and for confirmation he/she can provide additional information. Very convenient is the selection of the time zone, so the booker can display the available times in his own time zone. In this way, conversion errors are eliminated. The time zone can be adjusted via the globe icon above the selectable times. To prevent spammers, guests have to authenticate via email using an OTP. This reduces the chance for bots to spam the calendar of an Exchange Online user. If you are authenticated via AAD account, there is no need for OTP:
Subsequently, the booker will receive a confirmation email with teams invitation link and the possibility to adjust the booking afterwards: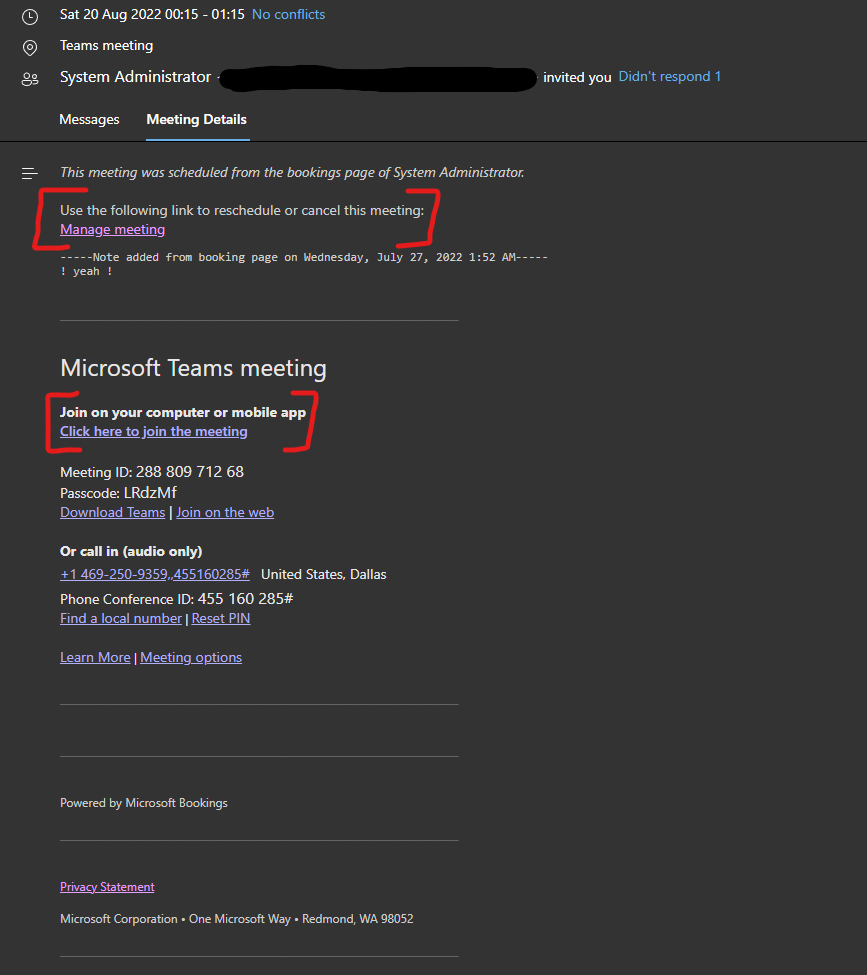 If the appointment is cancelled by the booker later, a cancellation notice will be sent automatically.
The booking page for private appointments
Since the public booking page does not display the private appointments, they must be shared in a dedicated way. For this purpose, the creator of the appointments must create a custom link and distribute it to the addressee. Very interesting is the option to create one-time links here. This opens the usage options for further use cases:
The distributable link opens a booking page where only this one private appointment is bookable. Even the public appointments are not bookable here:
The remaining functions are analogous to the booking of a public appointment.
Summary
Personal Bookings is a tool that fills a gap in the Microsoft 365 toolbox, while greatly simplifying administration by eliminating the need for a huge overhead of M365 groups.
With its release, Personal Bookings not only simplifies the scheduling and booking of appointments and services, but also eliminates the need for third-party products such as Calendly and Pipedrive. This allows a company not only to avoid licensing costs, but also to thin out the landscape of third-party products used.
Do you need support with planning, implementing and rolling out Bookings, Personal Bookings or any other component of Microsoft 365?